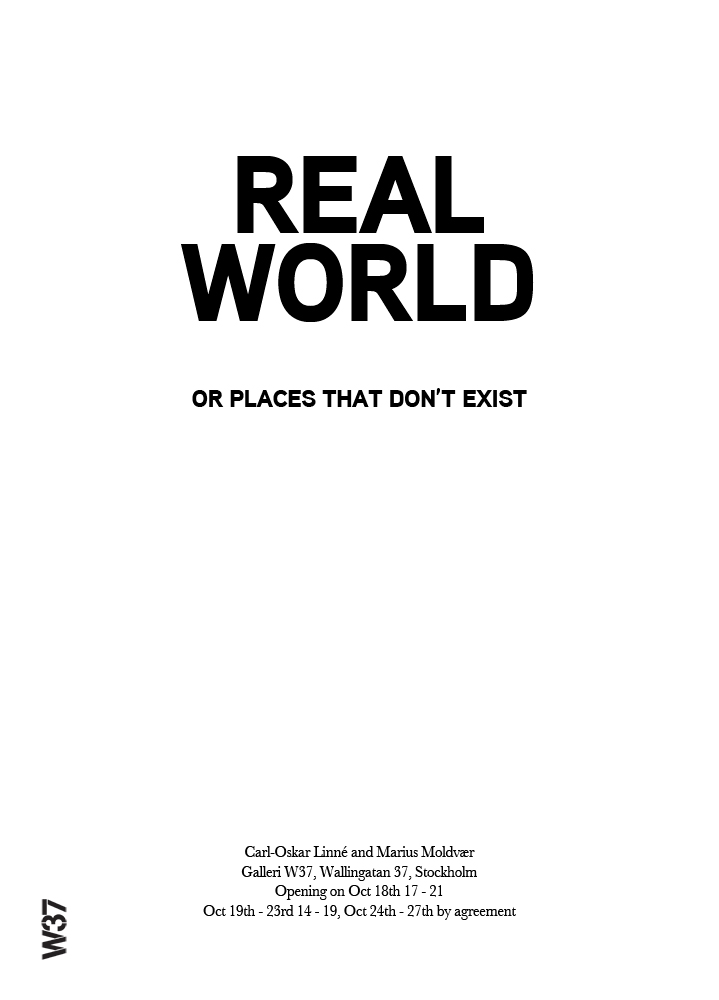 Opening of exhibition and release of book "REAL WORLD or places that don't exist" by Carl-Oskar Linné and Marius Moldvær at W37, Oct 18th 17-21.
Welcome to the opening at W37 (Wallingatan 37, Stockholm) on Thursday the 18th of October from 17.00 and onwards. The show is then open 19th-23rd 14-19 and 24th-27th by appointment. During the opening evening a one year travel and research project by Marius Moldvær and Carl-Oskar Linné will be presented: A series of photographs and a newly produced book.There will be a special price for the book and a little bar, cash only. From about 20.00 Gustav Svärdhagen and Anders Nilsson will play some music.
Best regards,
W37 and the artists
About W37:
W37 is an architect run gallery space at Wallingatan 37 in Stockholm founded by Bure Berglund and Carl Edvall. The gallery presents art and architecture interested in the gap between the two disciplines.
About the project:
If you transcribe the birth dates and age of Carl Oskar Linné and Marius Moldvær into coordinates, you will get a set of coordinates that either will place you in the middle of the Atlantic ocean, or just off the coast of Africa.
This point is given significance by our action, as these coordinates had no meaning, before now. The numbers were a part of the geographical mapping system for the world. We can measure how deep the sea is, map the terrain of the seafloor and together with the coordinates it would give us complete topographical information of this area. But through the action of pinpointing our birthdates in the geographic coordinate system we create a set of cultural and personal reference points that will exist aside any prior significance the place had.
A place does not exist until we create it, or rather place it within a system: A geographical position within a system of coordinates, x meters below or above sea level and so on. By creating a new context for this point in our atlas we can now understand and further misunderstand it.
Previously:
"Ett riktigt hem" at
Sven-Harrys (Konstmuseum)
in Stockholm, from March 24th until May 27th.
Review in Dagens Nyheter
Review in Upsala Nya Tidning
Review in Svenska Dagbladet
Exhibition and release of the magazine "Følgene" with Gruppe 11 in Bergen, Norway, January 2012.
Review
–
Get the magazine